As if we are in the last month of the fall season?! The best season! How did October go by so quickly?
I know that there are 60 seconds in a minute and 60 minutes in an hour and 24 hours in a day and 7 days in the week; but the older I get, the faster time seems to move. Each day is about 9 million hours long, but all of a sudden it's Sunday, and the week is over. Then I blink, and the entire month has gone by.
So here we are, already in November, with only two months left in the year.
Kind of puts things in perspective doesn't it? I still have about ten (out of ten) resolutions from the start of 2015 that I have yet to accomplish. Technically, I still could get going on that list, but considering time races around me, I'm most likely going to continue to procrastinate. I'm very good at procrastinating.
What I love about November is that the weather is that perfect, windy, crisp, and cool temperature that swirls the leaves around, and hints at winter. The temperature that puts you in cozy sweaters and big, fluffy socks.
Side note: The current temperature where I am is 72 degrees, so my November technically hasn't arrived yet. It will. I just know it. 
I also love the colors. The leaves have fallen and the streets and yards are covered in bright reds and ambers and oranges. Everything looks like a painting, and parks are filled with dog walkers and cutesy couples.
Fall makes me feel like I'm in a movie.
If you know me, you know how much I appreciate movies and magical, cheesy moments.
November also hosts the world's greatest holiday.
THANKSGIVING.
Although, the rest of the world outside of the US doesn't actually know it, considering they don't celebrate it. 
For my dads side of the family, Thanksgiving isn't just a time to eat the biggest meal in all of the land, it's the one time in the year where we put our busy schedules on hold and simply spend time together. My family is scattered. We live all over the place, work different jobs, go to different schools, and travel often. So it's a wonderful feeling, when all of us are sitting down at the tables (my cousins and I might all be in our 20's but that doesn't mean we don't still have a "kids" table), catching up and laughing, constantly.
If you polled a good chunk of America, 9/10 people would probably say that Thanksgiving is their favorite holiday.
This leads me to my next point. If so many people love Thanksgiving that much, THEN WHY ARE PEOPLE DECORATING FOR CHRISTMAS?!
Grocery stores, malls, restaurants, coffee shops (Starbucks-I'm looking at you), and even hardware stores, have all started Christmas.
IT'S TOO EARLY.
We haven't even eaten all of our Halloween candy.
Macy's hasn't even blown up the balloons for its annual Thanksgiving day parade.
I haven't even watched A Charlie Brown Thanksgiving.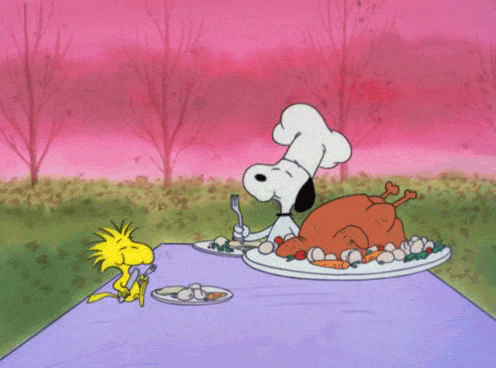 People participating in Movember or No-Shave-November haven't even had time to finish their first shave.
It's also Sweet Potato Awareness month. Don't rush people. Doesn't anyone care about the sweet potatoes?
Disclaimer: I had no idea that Sweet Potato Awareness month was actually a thing, but it is. So celebrate accordingly. 
It also grinds my gears that people are already playing Christmas music.
Now, I love Christmas music. Like, super love it. I have a holiday playlist with almost 200 songs on it.
I, however, do not let myself play it until the day after Thanksgiving.
That's the general rule of thumb here, at least in my book.
The same goes for Christmas movies.
Not until after Thanksgiving. 
I guess the general point of this post, is to appreciate this month. November brings a lot to the table (literally), so don't waste it and don't rush it.
When it's over and we've finally reached December, then you can go crazy. Decorate, sing songs, watch movies, make cookies, visit Santa at the mall; whatever gets you in the holiday spirit. You'll appreciate it more if you wait until it's here.
…and when Thanksgiving arrives, celebrate it.
The month of November? So far, so good.